Between fantasy and reality - Art Gallery Gjøl (DK) 2023
Thursday, October 19, 2023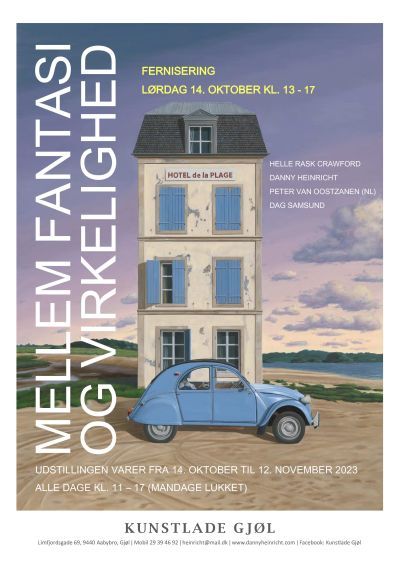 October 14 to November 12, 2023
"Between fantasy and reality".
Kunstlade Gjøl Is a small gallery specializing in surrealist and magical realist art.
The gallery will be filled with beautyful and inspiring works of art by the participating artists. You will be able to experience paintings, original drawings, bronze sculptures and prints.
The gallery is run by Danish artist Danny Heinricht.
Vernisage:
Friday October 14 from 1 p.m. to 5 p.m, 2023
Address:
Kunslade Gjøl
Limfjordsgade 69
Gjøl
9440 Aabybro
Denmark
Opening hours:
Tuesday 11:00 - 17:00
Wednesday 11:00 - 17:00
Thursday 11.00 - 17.00
Friday 11:00 - 17:00
Saturday 11:00 - 17:00
Sunday 11.00 - 17.00
Participating artists:
Danny Heinricht
Helle Rask Crawford
Dag Samsund
Peter van Oostzanen

Publisity:
LigeHer.nu - Hollandsk kunstner overnattede i cirkusvogn på Gjøl
Uitgeverij Peles - Peter van Oostzanen exposeert in Deense Kunstlade Gjøl
LigeHer.nu - Danny inviterer til 2CV-kunst i international klasse
Soestercourant -Peter van Oostzanen exposeert in Deense Kunstlade Gjøl
Overview