Commissions and portraits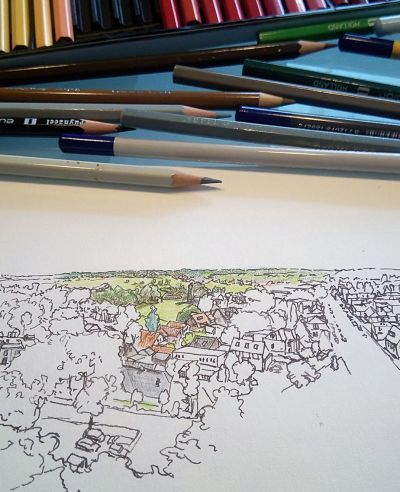 Commissioned art
Commissioned art is of all times. Many works of art have been commissioned. World famous works like the Night Watch by Rembrandt, the large frescoes in the Sistine Chapel, works well known by everyone. Closer to home, the portrait of grandma, that painting of the parental home.
The reason for awarding an assignment to an artist is because that artist is relied upon to depict something. A feeling, idea, moment, emotion.. it can be anything.
All clients have in common that they ask for a specific artist because they trust that he can depict what they are looking for.
How does it work?
If you are planning to have a commissioned work made, please contact without obligation. In the first contact we explore what the idea is and see what the possibilities are.
If there is an agreement to start on, we will make an appointment to talk to each other.
That can be in the studio, but it's also possible to visit you to discuss the assignment. If the distance is too big it will be by internet. We discuss what you have in mind.
Maybe you have pictures of things which are related to the assignment and where you have something to tell about. It may also be necessary to schedule a photo shoot. The contact is important to find out the story and what you have in mind.
Price
The price strongly depends on the technique and size. Keep in mind that an oil painting is the most expensive, an acrylic work less and a pencil drawing or watercolor is the most inexpensive.
Place order
With the material and the information I start to work and come with a proposal most of the time in the form of a detailed sketch.
After approval we make a definitive agreement about the implementation, technology, size and price. When we have an agreement, I'll get to work. At the start you pay 50% and on delivery the rest.
Contact form