The history of "Still far to go"
Thursday, October 01, 2015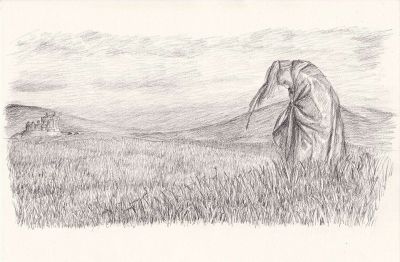 This painting took me almost 4 years to make and includes a period with a turning point in my life. It covers a time when everything is falling apart around me. My marriage broke down, in a short time my family fell apart and I lost my house and my future. But it also includes a time where I get back up my feet and picked up my life.
The idea for this work came about at a time when nothing seems to be going on. In the basic sketch a lonely figure is in an inhospitable landscape on her way to ...? Yes.. where to? The harbinger of impending doom is already announcing itself. Dark clouds are gathering and the rain is coming. It appears to be a precursor to what is about to happen. In the first set-up, where the palace Soestdijk now stands, there was a (half) decayed castle, something you can find in a place like Scotland.When I am halfway through the painting, the work stops because of the divorce. For a year and a half I will hardly be able to paint anymore. The painting ends up against the wall, at my new workplace,. As I get going again I conceive the plan to finish the painting. But as it is now, it is not right anymore. I got the feeling it's not final yet. Something is missing. But I can't put my finger on it. At a certain moment during that period I am in my car on my way to my home town Soest,. At the last stretch, when I get of the highway into the woods a always get the feeling of "I am coming home". Just before you drive into my home village you see the old royal castle beside the road. When I see this castle the feeling "I belong here" comes over me.
The moment I drive past the palace I know what is wrong with the painting. It is too dark, hopeless, gloomy, there is no hope in it. The feeling of "home" must be in the painting: an escape place, a safe place in an oasis. The palace must be in the picture at the place where I had drawn an old and ruined castle in the first set-up. With a hole in the clouds above it so that the light falls on it and a save haven is created. With this new vision, I go back to work and this painting again, giving it its final look. It also gets its title "Still far to go" This title refers to the road that is still to go, even though light shines on the horizon and there is an end in sight, it can still prove to be a long way.
Overview