INTERNATIONAL EXHIBITION 2010 Surrealism Now - Coimbra - (PT)
Thursday, May 20, 2010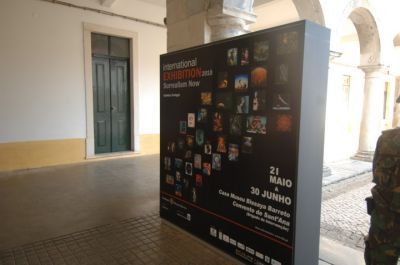 May 20 to June 30, 2010
SURREALISM NOW
BISSAYA BARRETO FOUNDATION
Idealization and coordination: Santiago Ribeiro
Institutional support: Intervention Brigade

A two annual exposition. Featuring some of the leading artists, as well as new talent of today's Surrealism. I feel very honoured that I have received an invitation to participate.
From every artist one piece of art is on show.
Especially for this exposition I have made a painting.
The exhibition will take place in BISSAYA BARRETO Museum House and SANT`ANNA CONVENT, Coimbra, Portugal, European union,
Casa Museu visit hours
From April to October (Monday Sunday) 15.00 until 18.00
Remaining months (from Tuesday up to Friday) 15.00 until 18.00
Closed on Monday and holidays
Locatie:
Fundação Bissaya Barreto - Convento Sant'Anna - Rua da Infantaria 23, Arcos do Jardim, 3000-219,
Portugal, de Europese Unie.
Participating artists are:
Daniel Hanequand
Viktor Safonkin
Sergey Barkosky
Carlos Aguado
Gerardo Gomez
Lv Shang
Alessandro Bulgarini
Pedro Diaz Cartes
Elizabeth Pantano
Egill Ebsen
Octavianus Florescu
Dan Lydersen
Pavel Surma
Jo Rizo
Ludmila
Lourenço Gonçalves
Sergey Tyukanov
Mehriban Efendi
Victor Lages
Meme
Adam Scott Miller
Vu Huyen Thuong
Keith Wigdor
Overview