"SURCOL AND FRIENDS" - Big church Edam (NL) 2017
Saturday, May 13, 2017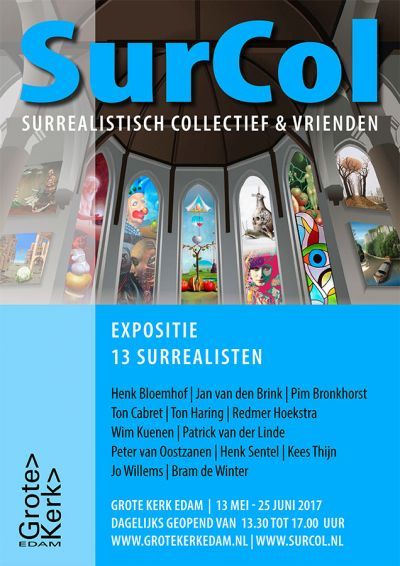 May 13 to June 25, 2017
"SurCol and Friends"
The exhibition "SurCol and Friends" consists of 13 Dutch surrealists from the Surrealistic Collective "SurCol" supplemented by friends from the Netherlands. In addition to thoroughbred surrealism, daughters like magic realism and imaginary realism are also represented. Never before has there been an exhibition in the Netherlands of so many representatives of these fascinating and popular art movements.
The opening will be held on Saturday 13 May at 1 p.m. by Harry Hulskemper, chairman of the Administrative Body Foundation for Religious Monuments Edam.
We hope to welcome you at this special exhibition, which makes us aware of our surrealistic abilities.
Address:
Grote Kerk Edam, main entrance Matthijs Tinxgracht te Edam,
Grote Kerkstraat 59
1135 BE Edam
Opening hours:
Daily from 1:30 PM to 5 PM
Free access
Download Flyer >

Participating artists:
Henk Bloemhof
Jan van den Brink
Pim Bronkhorst
Ton Cabret
Ton Haring
Redmer Hoekstra
Wim Kuenen
Patrick van der Linde
Peter van Oostzanen
Henk Sentel
Kees Thijn
Jo Willems
Bram de Winter
Overview